Gold Coast Proposal Cruise
Are you planning to propose to your future wife, or husband and seeking out unique proposal ideas? Firstly, congratulations, this is such an exciting time!! Secondly, we are thrilled that you are here as we absolutely adore hosting proposals and are proud to offer one of the most beautiful ways to propose on the Gold Coast!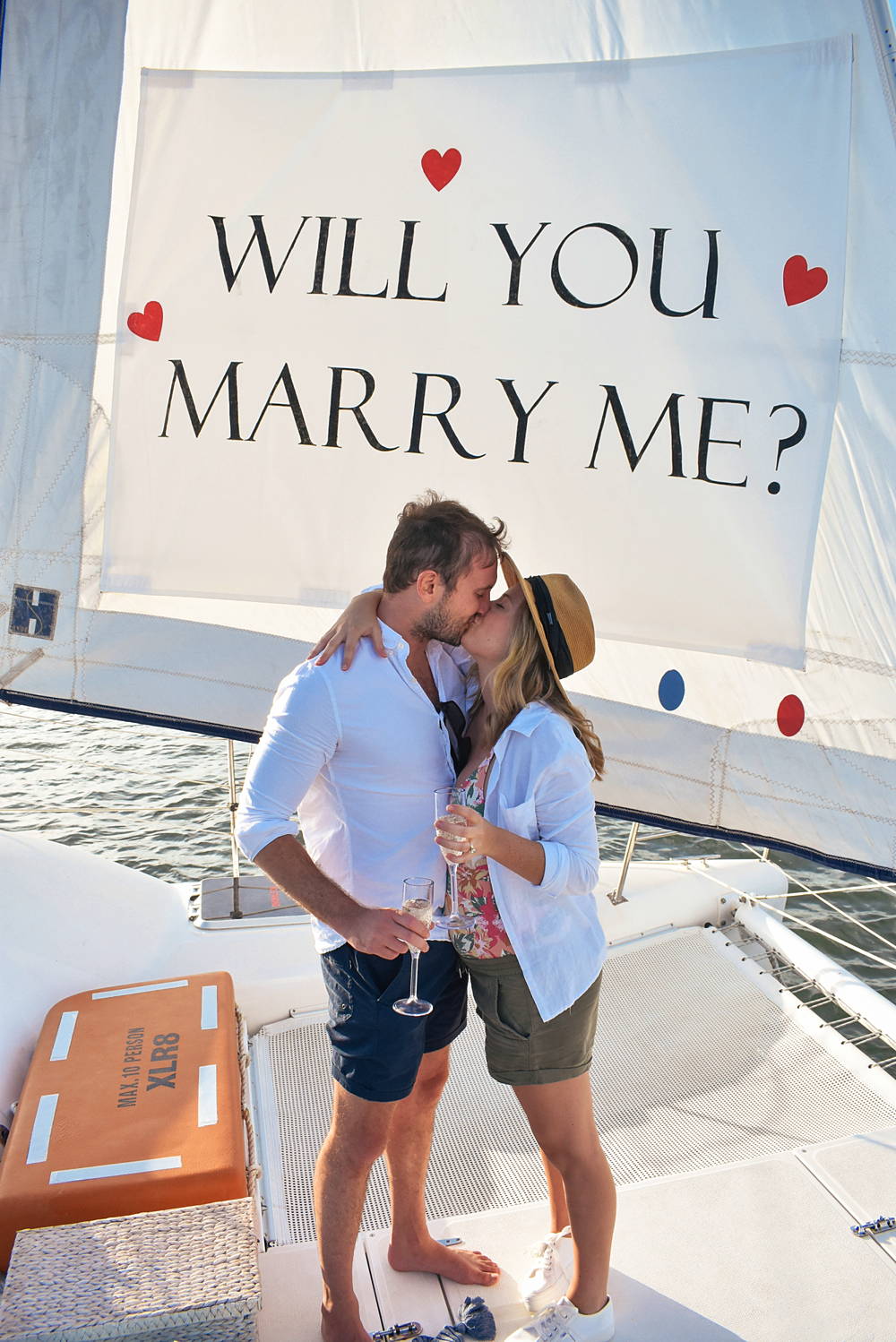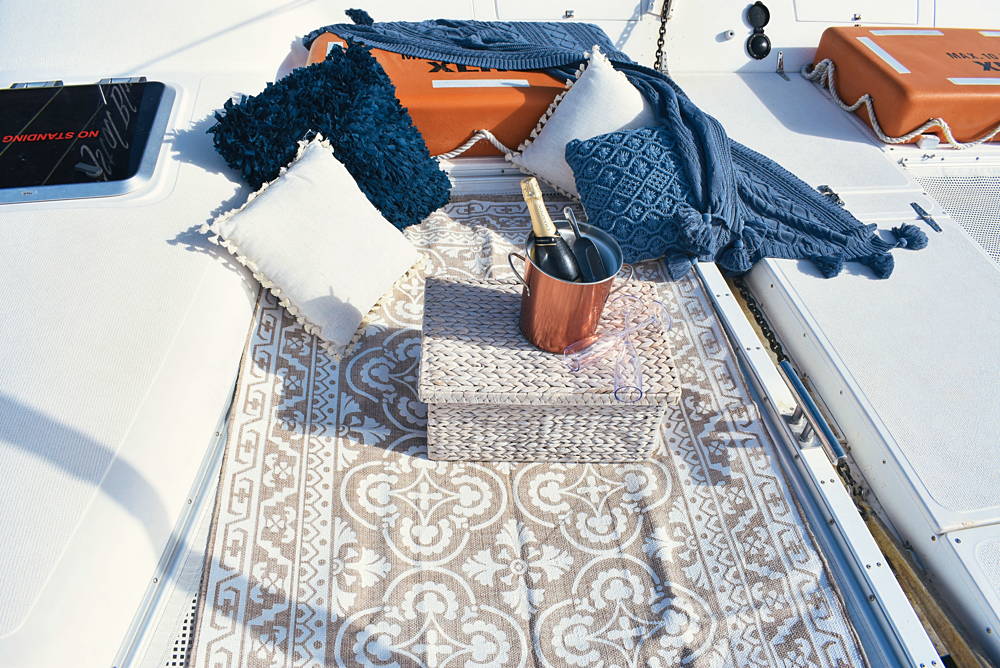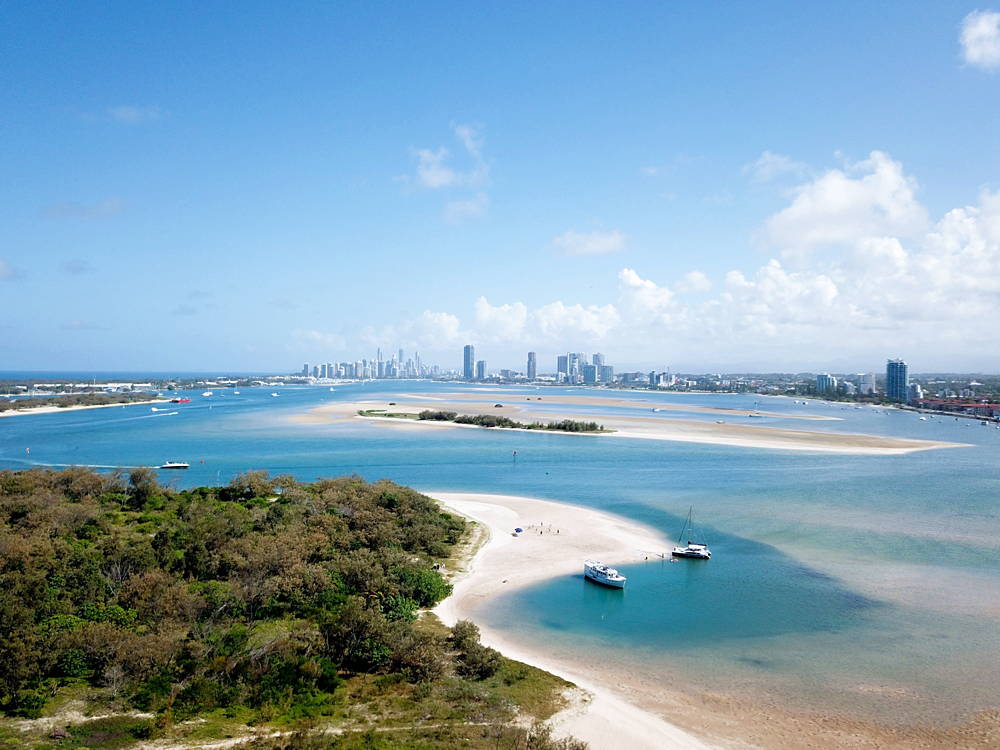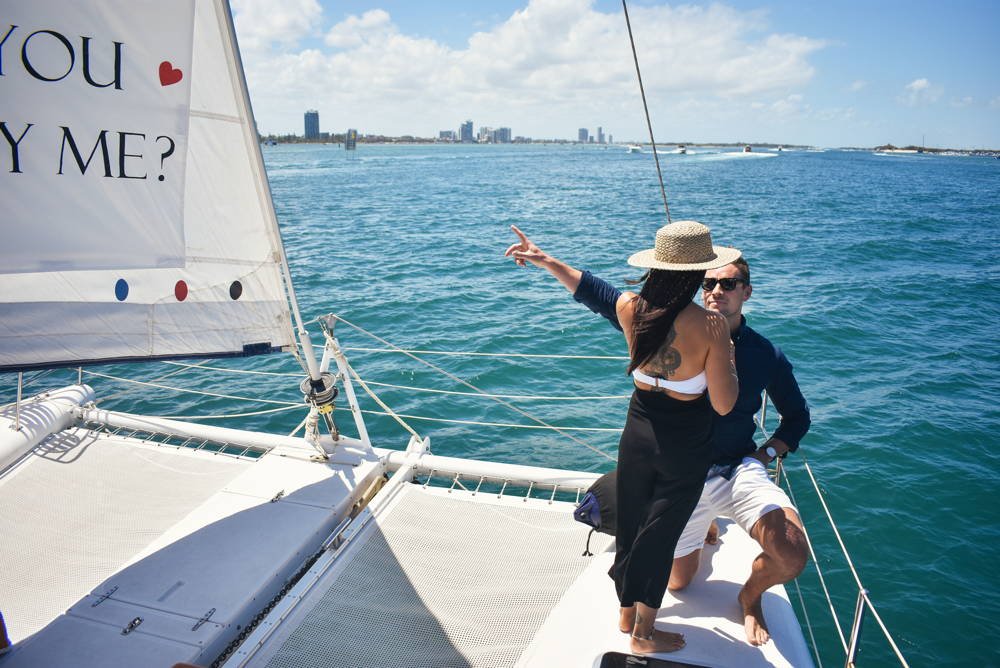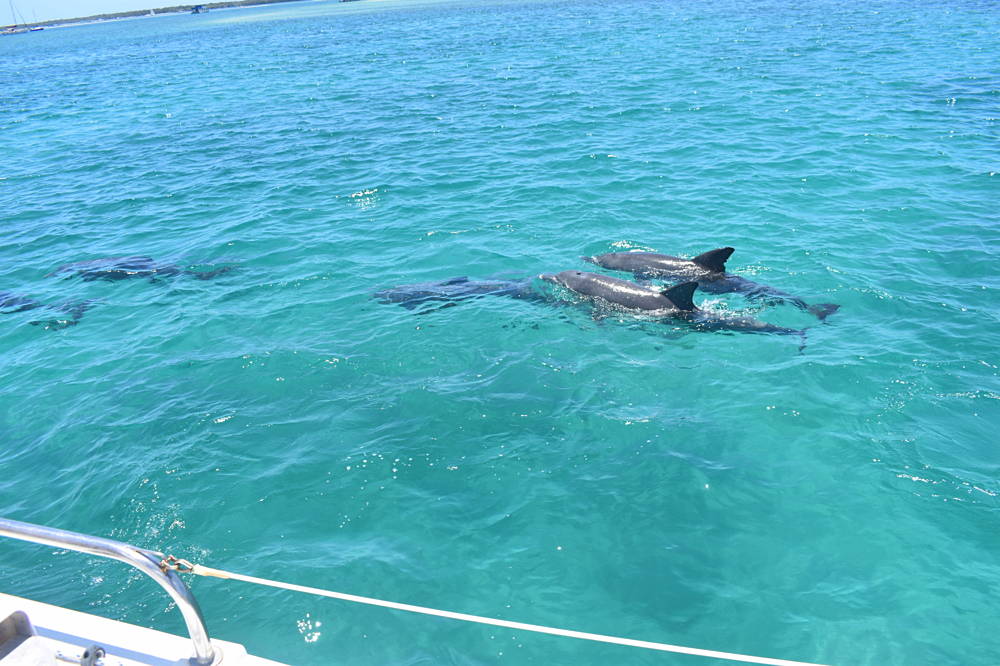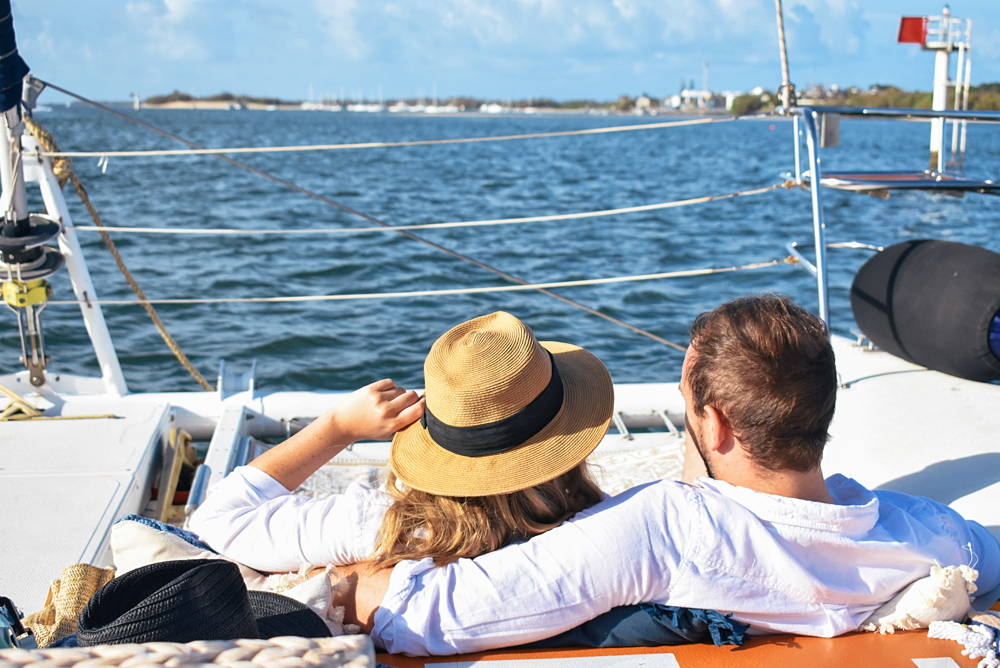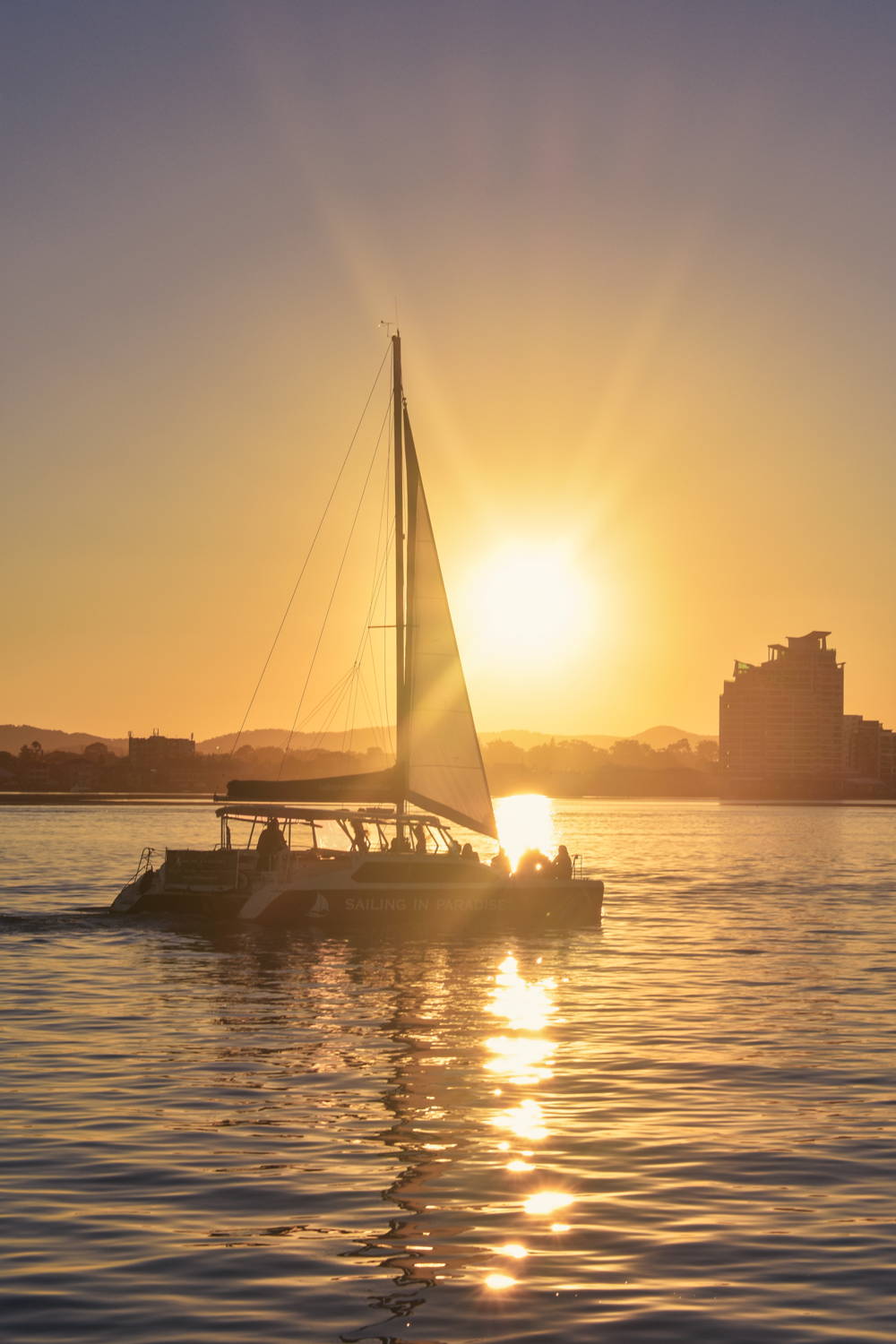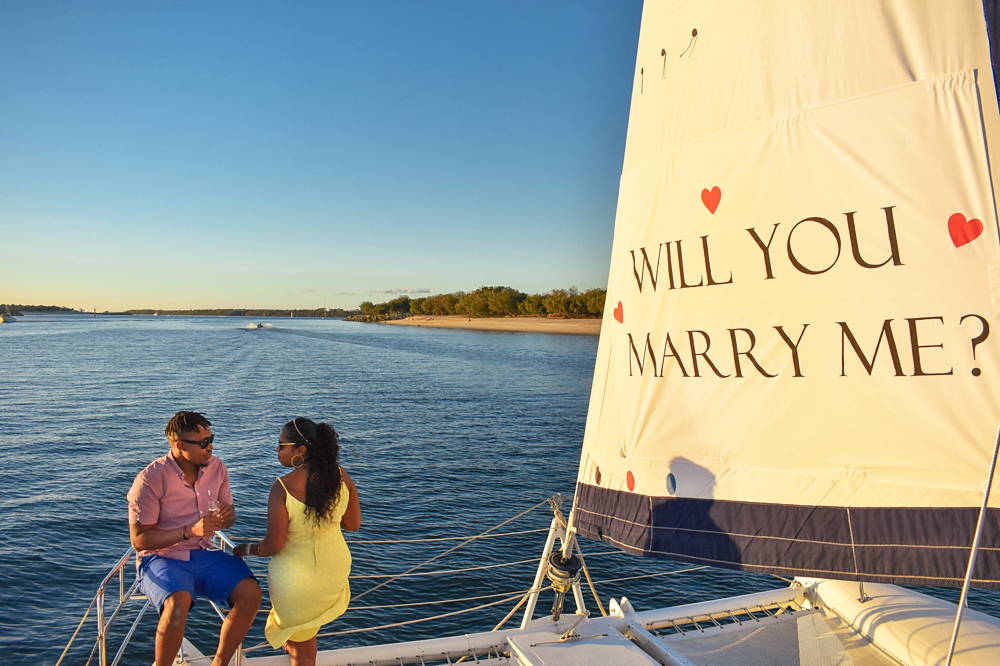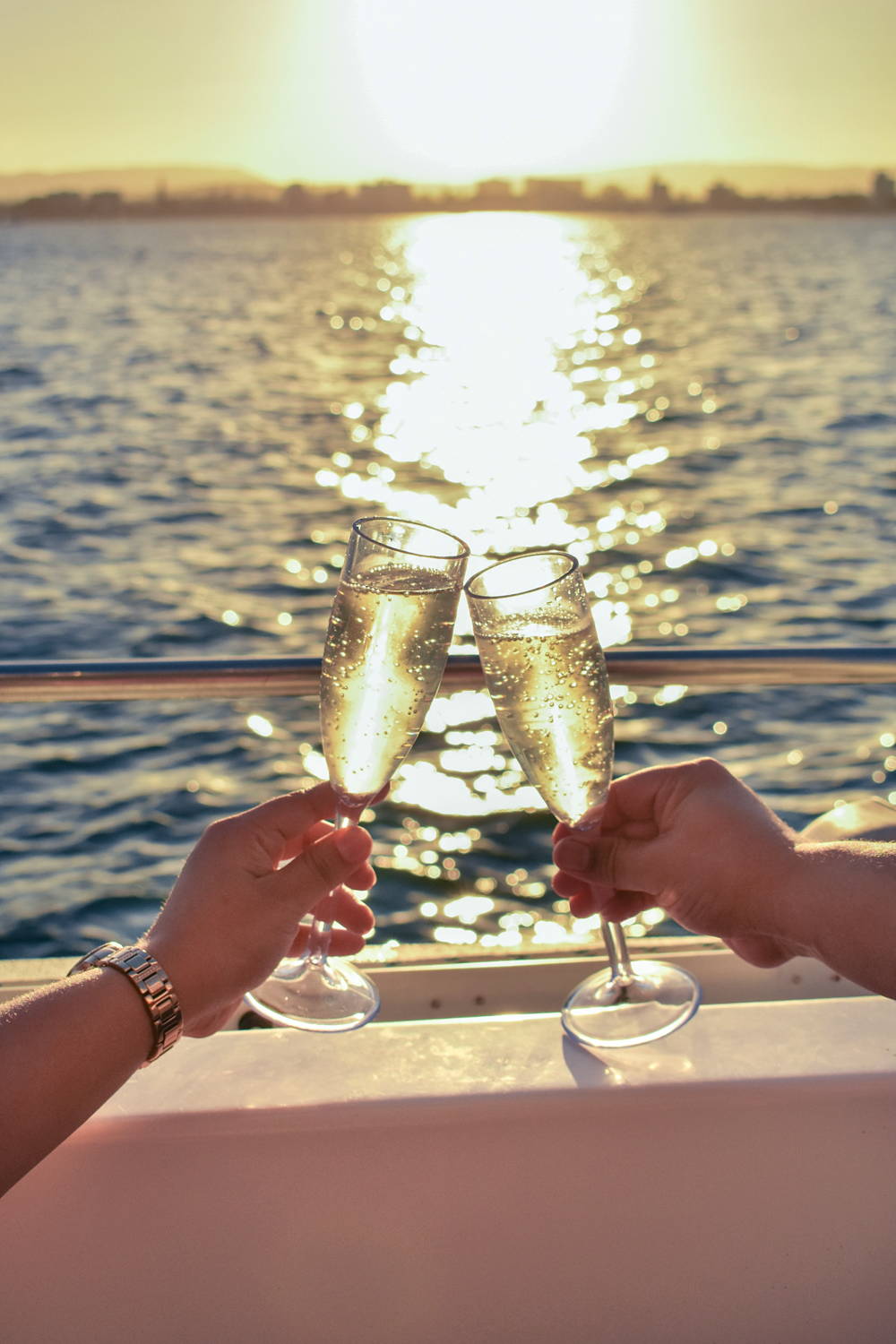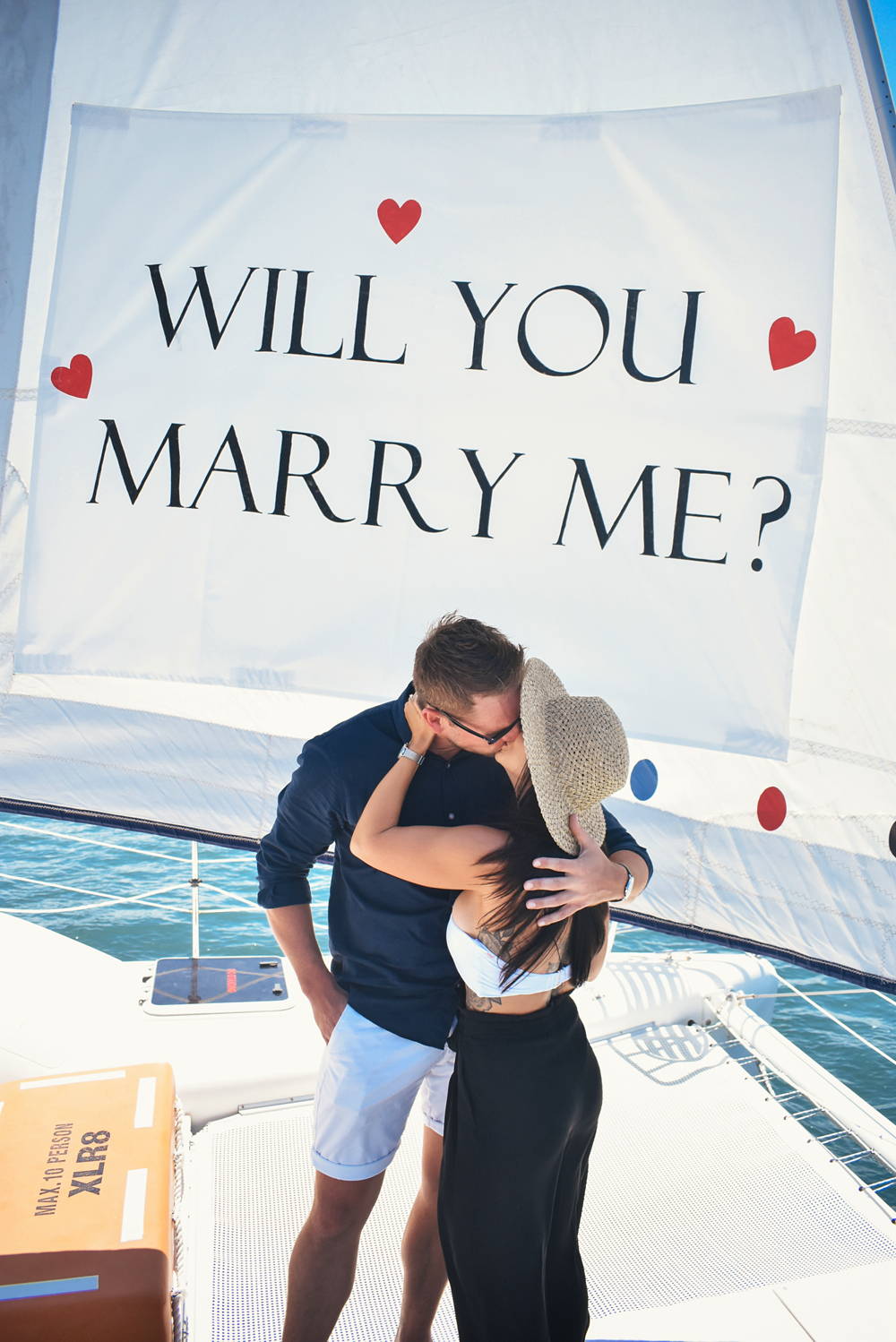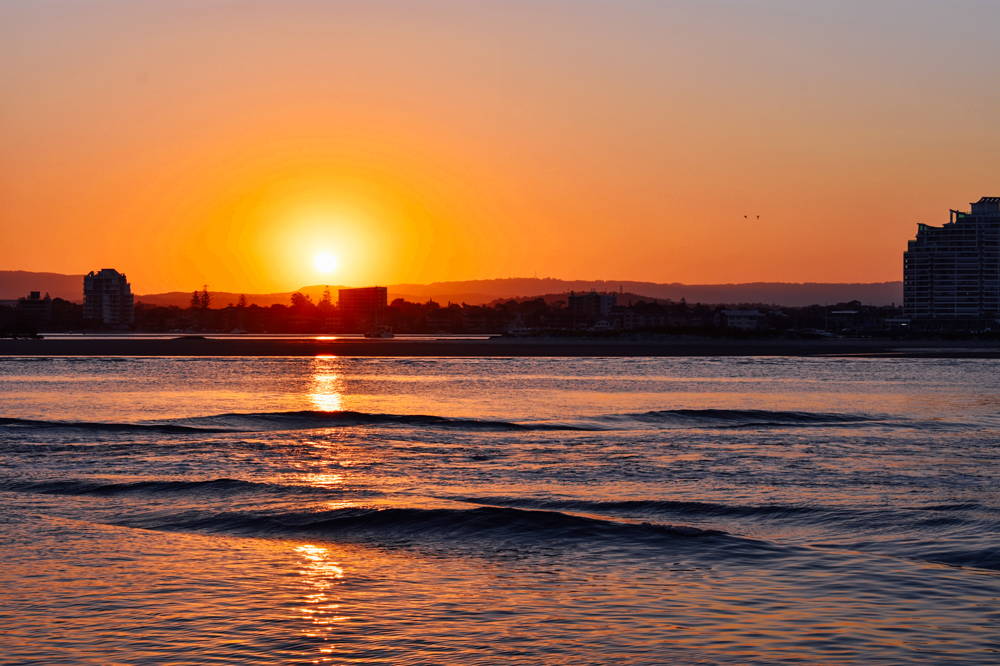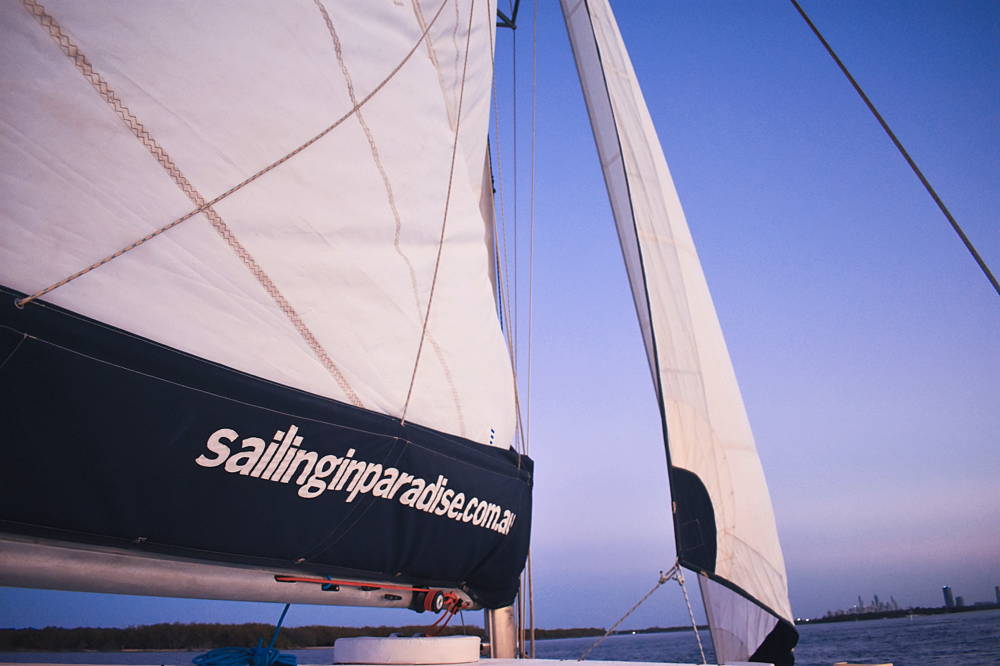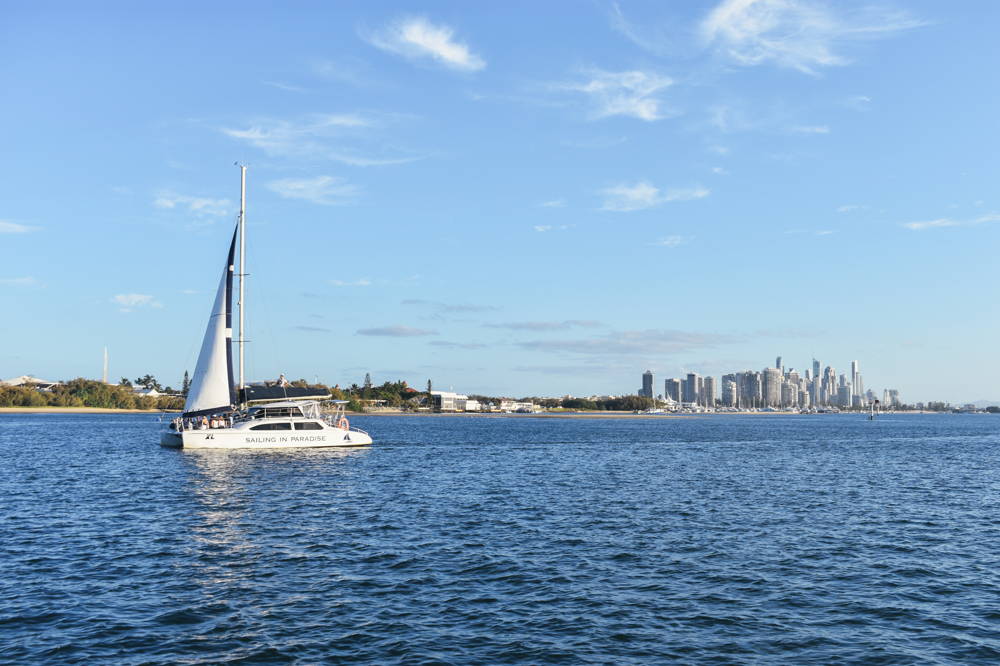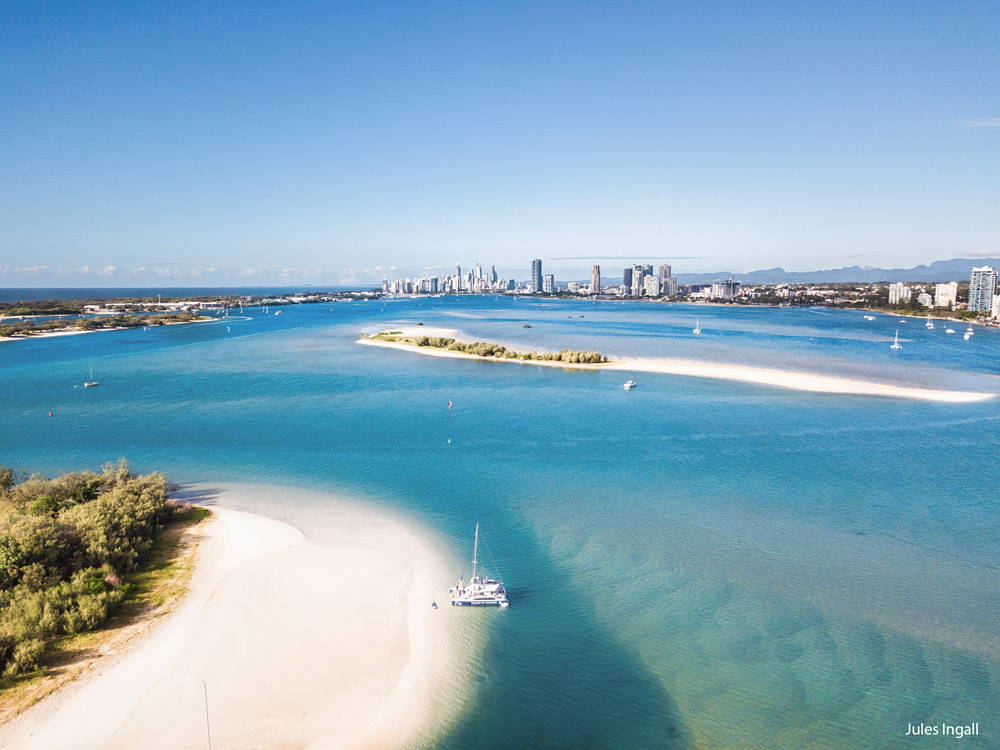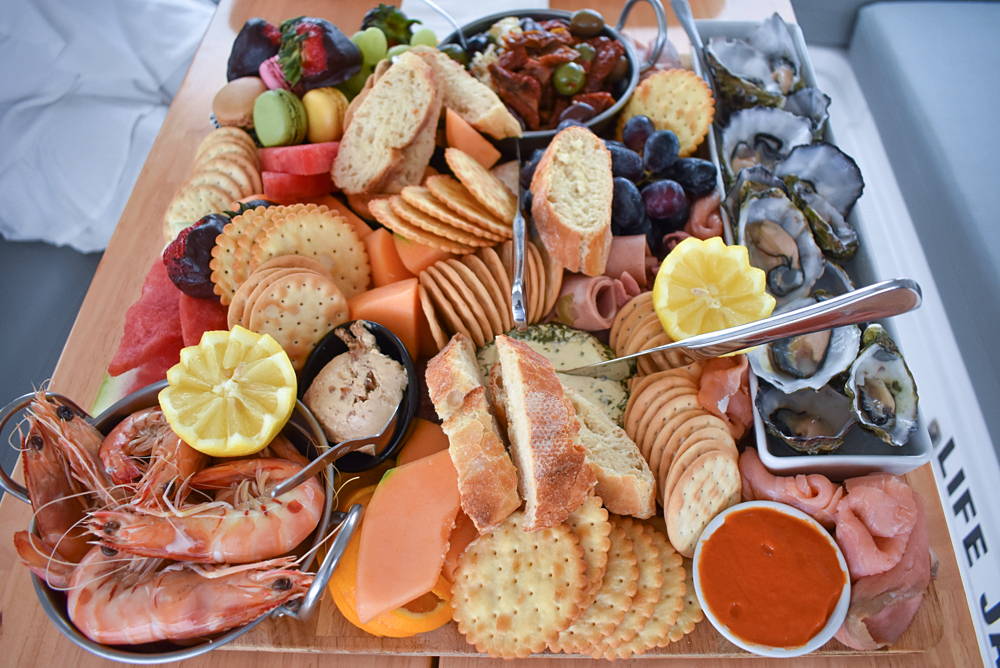 A proposal to remember...
Can you imagine anything more romantic than popping the question on your own private yacht as the sun sets over the mountains in the distance?
The answer is pretty much guaranteed to be yes, right? In fact, we have a 100% success rate to date, so be sure to have that engagement ring at the ready...
A yacht proposal is an experience that neither one of you will ever forget. Our beautiful waterways are the perfect backdrop for romance. We invite you to sail away on your own private yacht, relaxing on the trampoline style foredeck, sipping champagne and nibbling on gourmet cheese platters to the sounds of your favourite tunes and the waves lapping beneath. You may even be joined by the friendly bottle-nose dolphins who frequently ride the bow waves of our catamarans.
"Life is not measured by the number of breaths we take, but the moments that take our breath away"
There are many ways to pop the question on board. Some to consider include;
a traditional bended knee approach,
arriving at a romantic beach picnic by boat,
or our most popular option – revealing our gorgeous 'Will You Marry Me' Sail at sunset (the sail can be hoisted discretely by our onboard crew at just the right time.
We would love to chat with you via phone or email any time and start planning your perfect proposal which can be fully customised to your wishes.
Planning your proposal cruise
What to expect
A unique customised experience - this is not a cookie cutter marriage proposal. You are invited to make this time your own and it should be as unique as your relationship.
Upon boarding the boat you will be greeted by our friendly crew who will adapt to your preference of their involvement on board. We invite you to take a walk around the boat and find a place to chill out with a drink and enjoy the beautiful views and the sounds of the water. When it comes time to pop the question should you have planned with our team in advance to use our beautiful 'will you marry me' sail simply give our skipper the nod and we will unfurl it at the perfect moment... often to the sounds of a favourite song you may have let us know about.
What to Bring
Your partner (and any family if you wish to make it a group event)
The ring :-)
If you wish to BYO you are welcome to bring food and drinks on board. We also provide fully catered packages
If you are sailing during the day and wish to swim, please bring towels
Charter FAQ's
Where do your boats depart from?
Our boats are berthed at Marina Mirage. Please see the 'contact us' page on our website for further details and a map. Marina Mirage is about 10 mins from Surfers and 15 mins from Broadbeach.
Where can I park?
There is plentiful free parking at Marina Mirage/Mariners Cove which you are permitted to use.  Please check signage at time of parking and if parking overnight consider street parking to avoid towing.
What about other transport options?
There are lots of ways to get to the boat! The most popular (and cost effective/convenient) is often via Maxi Taxis.
Can I BYO?
Yes if you would like to bring your own food and drinks on board that is completely fine.
Will I get seasick?
Nope. We operate in the calm, protected waters of the Gold Coast Broadwater. We do not go offshore (into the open ocean) so we do not experience large waves. Our catamarans are very stable, and do not have the same side to side rocking motion as experienced by single hull vessels so you won't get seasick or spill your drink either :-).
Do you offer special packages?
Yes we do!! Our 'Sail Away with me…' Proposal package includes;
A 2 hour private sunset sail for 2 guests (mid-week)
A romantic boat picnic set up on the front deck (weather permitting)
Use of our beautiful 'Will you Marry me' Sail (you give the nod)
Chilled bottle of Moet and gourmet cheese board
Beautiful digital photos captured of your proposal and voyage
$1,100*
*Subject to availability. Available Monday to Thursday (mid-January to mid-November, excl public holidays). Weekends may be available on request, please enquire.
You can also consider a surprise proposal with your closest family and friends on board. Please contact us for a quote for a customised private charter for larger groups.
Please click here to request a proposal charter info pack via email.
THE PERFECT VESSELS FOR YOUR SPECIAL DAY
Our beautiful Seawind catamarans offer the relaxation of sailing in complete comfort. The trampoline-style foredeck is a favourite spot for snuggling and gives an immersive sailing experience with 360 degree views of the Gold Coast's stunning waterways. It is also the ideal spot for spying the friendly bottle-nose dolphins who frequently ride the bow waves of our catamarans, so close you can almost touch..